Driving Cape Town to London in Record Time
New World Record Set by Philip Young & Paul Brace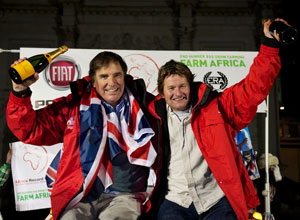 Philip Young and Paul Brace
At 5.28pm on Monday February 11th 2013 Philip Young and Paul Brace drove their Fiat Panda under Marble Arch at the end of their gruelling 10,000 mile drive from Cape Town to London shaving over a day off the previous best time ever achieved.
10 Days, 13 Hours, 28 Minutes
The Panda Pair break two earlier world records.
Cape Town to London – 14 days, 19 hrs, 26 mins – Set in 1983 by Brigadier John Hemsley & his wife Dr. Lucy Hemsley driving a Range Rover V8.
London – Cape Town (either direction) – 11 days, 14 hrs, 11 mins – Set in 2010 by Mac MacKenney, Chris Rawlings & Steve MacKenney driving a Land Rover Td5.
Making the news...
In the record run follow up the Panda crew returned for a second interview on ITV's Meridian Tonight, who used some excellent clips of the Panda struggling against the battering of the North Kenya desert tracks. Autocar have carried two pages of Gerard Brown's photos and Octane have a five-page feature on the background and history of the trans-Africa record-breakers along with a summary of the Panda Pair's achievements. This follows on from various national newspaper reports including The Daily Mail, The Sun, The Daily Star, The Daily Express and The Times who all reported on the Panda's success. (links in Press & Media, right)
What next for the Panda? Steve Cropley became the first journalist to drive the Panda on its return and will be featuring the car in a forthcoming issue of Autocar. Fiat UK have expressed keen interest to see the car tour various Fiat dealers around the country and Lord Montagu's National Motor Museum at Beaulieu have also expressed keen interest to see the car in their forthcoming exhbition, The Record Breakers, hoping the Panda can be parked alongside the land-speed record-break Bluebird.
Latest record run news ...
Our Mission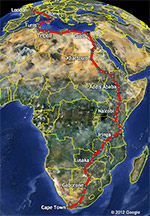 Is this the ultimate test-drive for a reasonably-priced car?
In February Philip Young and Paul Brace are attempting to establish a new world record by driving nearly 1,000 miles a day for 10 days from Cape Town to London ...and they are driving a Fiat Panda, one of the smallest-engined cars you'll find on sale today.
The records in our sights... the British Army's, Guiness Book of Records, driving record has stood for 30 years, taking 14 days from Cape Town to London ...and it might just be possible to beat the outright World Record snatched two years ago by a three-man crew in a Land Rover Discovery as the best ever, 11½ day, drive from London to Cape Town. Can we do it?
We're also keen to leave some lasting benefit in our wheeltracks by raising lots of money for Farm Africa. We can't be sure to beat the record but please help us on the way by making a donation to Farm Africa. READ MORE ..
Some History
January 2013 is the 80th anniversary of the first record-run between London and Cape Town when a young Yorkshireman, Alan Gilg, set out to drive Africa from top to toe, the first drive down the length of Africa in a small car. For his epic adventure Gilg chose a baby Morris 8 with an engine capacity of just 900cc. With a nod to Gilg and to prove the ability of a modern city car we are using the lastest highly acclaimed Fiat Panda Twin-Air powered by a tiny 875cc engine.
There's a long and illustrious history of Africa motoring pioneers and record breakers. We look forward to adding another chapter to the story...
MORE HISTORY ..
A Panda for Africa – the Preparation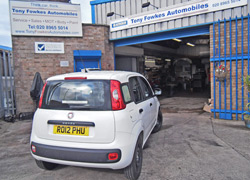 The Fiat Panda was never designed to take on a non-stop drive through Africa where even the main roads can be rougher than rough. Vehicle strength and reliability with maximum crew comfort will be essential if we are going to break the record.
With this in our thoughts car preparation needed someone who could understand what we're attempting, so we called on Tony Fowkes Automobiles, in Park Royal North London.
Tony knows a thing or two about long distance rallying. As a Mercedes works-driver he came second to Andrew Cowan on the 1977 London to Sydney Marathon and enjoyed many other top results. As well as finishing 3rd-overall on the 1975 Lombard RAC Rally in a self built Ford Escort, Tony is a five time Paris-Dakar veteran, twice on motorcycles.
Taking the Panda to Tony's workshop seemed the right place to go, and he was keen to be involved...
More preparation ..